Compact yeast monitors
The COMPACT YEAST MONITORS from ABER Instruments' brewing equipment range are designed to be used in real time
with live yeast concentrations up to 70% viable spun solids.
The COMPACT YEAST MONITOR is housed in a robust IP65 stainless steel housing, this can be fitted to housing such as the tuchenhagen Varivent. The COMPACT ADAPT YEAST MONITOR is used on fermenters and propagators and is typically used with our 25mm diameter probe type. The COMPACT PERFECTPITCH is a self-contained mobile skid for dosing the right amount of LIVE yeast.
Compact Perfect Pitch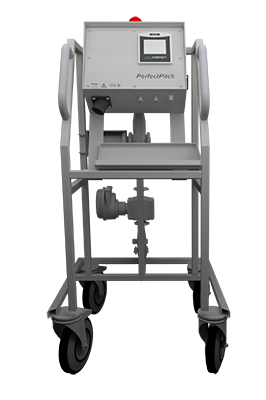 Compact Perfect Pitch
From ABER Instruments' range of yeast pitching equipment, the COMPACT PERFECTPITCH is a portable skid that incorporates a COMPACT ADAPT yeast monitor, a flow meter, pipework and mini-PLC. So if the brewer needs a self-contained module or the flexibility to connect the yeast monitor to various yeast storage vessles and fermenters, the COMPACT PERFECTPITCH provides the ideal solution at an affordable price.
Our recent case study highlights the benefits that the Meantime Brewery in London experienced during their trial of the COMPACT PERFECTPITCH.
Technical specifications
Measuring Ranges:
0 to 100 % Viable Spun Solids
0 to 6 x 109cells/ml
Note: These limits will not be reached in normal operation
Practical Operating Ranges:
Depends on cell sizes but typically:
0.5 – 70% Viable Spun solids
25×106 cells/ml to 5×109 cells/ml
Conductivity range of 0.75 to 3.0mS/cm
20 yeast strain storage
Power Supply:
100 to 240V AC input max 260V (Single phase), 45-65Hz, 15 Watts maximum. Refer to Quint PSU instruction note for more details.
Power Connection:
Connected to 900 Series Buccaneer 32A, 600V ac/dc rating. Refer to manufacturers wiring instructions Pt no. PX0911/03/S.
Power Cord:
3 core power cable (Live, Neutral, Earth) Current rating: 10-20A, Jacket material: PVC, Jacket OD: PX0980 gland pack for PX0911/03/S 7-9mm Dark grey, 9-11mm White, 11-13mm Black. Use suitable gland.
Electrical/EMC Safety:
Electrical safety Class 1 appliance handling. MUST BE GROUNDED – refer to installation in user manual. Fuses – Live and Neutral fused. Refer to 6.2.3
Environmental:
Safe ambient operating temperature range: 5°C to 40°C
Recommended ambient operating temperature range: 15°C to 30°C
Relative Humidity: < 80%, Pollution: degree 2 (EN61010)
Recommended operating altitude: < 2000 m
Maximum operating pressure for COMPACT unit: 10 Bar
Construction Material:
All Wetted parts 316L. Plus other FDA approved materials
Yeast Monitor:
COMPACT ADAPT YEAST MONITOR
Probe:
Adapt Probe: Flush Standard brewery probe 25x75mm. ABER Part No: 3420-52
Flow Meter:
Positive Displacement, Magnetic pulse via a reed switch
Construction material: PEEK
Flow Range (litres/hr):
110-2,300 (Based on water)
Skid weight:
58Kg
Floor area:
600x600mm (when all wheels are facing outwards)
Enclosure:
IP65
Mains Connector
IP68 – when mated, or with protective cap fitted
Pipe Connector type – In/out:
RJT (Male Type) 1.5"
Seceondary I/O:
Auxillary relay switch option (Refer to Manual)
Sign up for information on webinars and new developments
Brewing service and support
Our team's expertise has been developed from working closely with our customers and developing a deep understanding of their aims and challenges. Whether you have a question about a specific product, designing a solution, or want to find out more about our technology our team of expert engineers are on hand and happy to talk.