Compact V350 Touch Screens
The V350 modules are ideal when a local interface is required close to the bioreactor. The operator can input Futura settings and monitor process values locally.
Compact V350 Panel Mount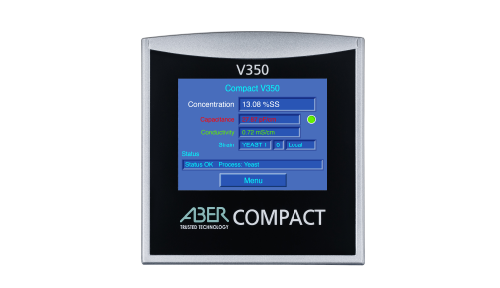 Compact V350 Panel Mount
From ABER Instruments' range of yeast analysis products, the Compact V350 Panel Mount connects to any single COMPACT Yeast Monitor and is programmable for different applications.
Provides power to a single COMPACT.
Provides 2 x 4-20mA current loops for concentration and conductivity.
Ideal for measuring live yeast cell concentration in fermenters. Displays graphs of data.
1 x Alarm Relay
| | |
| --- | --- |
| Part No. | Description |
| | |
| 3515-00 | V350 Panel Mount – For 92x 92mm Mounting Hole, 24VDC Power |
| 3565-00 | V350 Panel Mount with Profibus – For 92x 92mm Mounting Hole, 24VDC Power |
Technical specifications
Measuring Ranges:
Capacitance: 0 to 400pF/cm, equivalent Cells/ml
Conductivity: 1 to 40mS/cm.
Power Supply:
+24V DC
Power Consumption:
15W Maximum
Battery Backup:
7 years typical, at 25°C (Clock and Data Only)
Electrical Saftey:
Must be mounted in a suitable grounding system.
Refer to installation instructions.
Environmental:
IP65 for fascia, when mounted in suitable panel.
Safe ambient operating temperature range: 5°C to 40°C
Recommended ambient operating temperature range: 15°C to 30°C
Relative Humidity: < 85%. Pollution: Deg 2. (EN61010)
Recommended operating altitude: < 2000m
Sign up for information on webinars and new developments
Brewing service and support
Our team's expertise has been developed from working closely with our customers and developing a deep understanding of their aims and challenges. Whether you have a question about a specific product, designing a solution, or want to find out more about our technology our team of expert engineers are on hand and happy to talk.